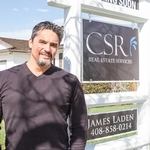 408-858-0214
James@csrteam.com
5330 Camden Ave.
San Jose CA, 95124
Receive Email Alerts from Me
Meet James Laden
DRE# 01788981
A native of Santa Clara, I've lived in the Bay Area my entire life; this uniquely positions me to assist clients when they are looking to sell or buy a home – or – refinance their existing mortgage. Simply put – I know the area like the back of my hand and can easily offer valuable advice on specifics of just about any geography.  
My desire to assist friends and family stems from my own commitment to have a high-quality of life – this is reflected in my past roles specializing in the fitness and nutrition areas where I was actually a small business owner of Vita Sport.  Formerly a personal trainer, I easily fit the mold of a consultative real estate professional -- working hard for my clients and taking great satisfaction when I'm able to help them realize their goals.
My sales experience in real estate ranges from small condos, multi-million dollar properties and more recently, deeply involved in several short sales as well as REO transactions.  
I attended Santa Clara High School and Foothill College. I currently reside in downtown San Jose with my wife, Becky and our three amazing children.  
I possess a noteworthy track record of delivering results, which is why clients refer friends and family to me regarding their real estate needs. Having an agent that is not only committed to helping in the buying or selling process, but that has a sophisticated understanding of each step makes all the difference in the world.

There's not much that is more exhilarating to me than the rewarding feeling I receive from helping people reach their goals and be by their side in perhaps the largest financial decision that person may make in their lifetime. You can count on me to always do what's in your best interest. Being honest, trustworthy and educated in the real estate market is only half of the recipe. I have a full understanding of what it means to find your dream home or to identify the best offer for your property.
Now's the time to set your worries aside and put your trust in a seasoned professional that will guide you through every and anything pertaining to your real estate needs. Please feel free let me guide you every step of the way by calling or e-mailing me to set up an appointment today.